MasterChef Story: Episode 8 "The Good, The Bad, and The Offal"
What an exciting mystery box challenge and elimination round! Cooking a Masterchef worthy dish to feed a family of 4 for 20$!!! The challenges are getting harder in the Masterchef kitchen each week. I continue to give each challenge my heart and soul. I cook everyday for a family of 4. This challenge brought a smile to my face thinking about my family while I was cooking. I made a Moroccan stewed chicken dish. My daughter Stevee Kate loves to make this dish with me in my kitchen at home. The hardest part was getting all the ingredients I needed on 20$.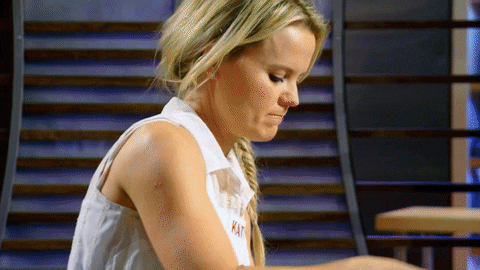 I quickly chose this dish because I looked immediately at our staple pantry box. I saw at my station I had free of charge chicken stock, cilantro, red pepper flakes, cinnamon and a few other ingredients that I use when making this recipe. It made shopping on 20$ a little easier. I ran into the pantry and grabbed chicken thighs, chick peas, zucchini, tomatoes, couscous, pine nuts and a few other items. This mystery box challenge was so much fun to me.
Shaun won the mystery box challenge and was safe from elimination. Shaun had one home cook he could save and he chose Brandi. Shaun had a huge advantage in being able to select which organs he wanted each of us to cook. Shaun sparked a fire in me! He didn't think a healthy cook from Mississippi would do well on this challenge. I was given lamb kidney. I have cooked many meals with lamb but I had never cooked a kidney! I used my knowledge from personal training and biology classes. I knew the kidney works hard all day on any animal. I quickly brined my lamb kidney. I next began making my curry. I love making curry. I love traveling and trying foods from different countries. I truly love to put a traveling spin on my southern healthy cooking. I also have a very sweet friend named Tiki who I love to make curry with! I was smiling big in the Masterchef kitchen thinking of our fun times cooking curry together.
My name was called and I walked my lamb curry to the judges. As you walk up to the judges a million things are going through your mind. I had tasted my curry throughout the cooking process and I was very pleased with the taste. I just hoped the judges would feel the same way. Chef Edward Lee tasted my curry and I couldn't believe the words that came out of his mouth! Did I hear Chef Edward Lee correctly? He just said my curry was one of the best he had ever tasted!!! I think this week was successful. I can't wait to share my curry recipe with each of you!