MasterChef Story: Episode 10 "The Weakest Links"
Thank you Masterchef for taking me back to childhood memories on my grandparents farm. What a joy it was to cook for 101 farmers! I am so thankful for each and every farm in the United States! As a cook I could never accomplish what I do without each of you.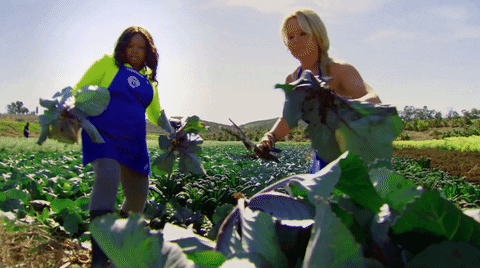 I grew up in Brookhaven, MS where I loved visiting my grandparents farm on the weekends. I grew up watching my grandfather spend countless hours tending to his cows and working on his farm equipment. He instilled in my dad characteristics of hard work and love for the land. My parents now own the farm and my children are able to enjoy the farm life as much as I did. When the Masterchef van pulled up to the farm I was absolutely elated! I was so happy to be on the blue team. Dan was a great team captain and the southern girls brought true hospitality to the farmers. I was so happy when Chef Edward Lee pulled up on the tractor and let the blue smoke rise to the sky. You see, this means the blue team is part of the top 10 in Masterchef season 7!!!!
I was so excited to watch the red team make a spin off of the their favorite sausage dog. Andrea looked confident the entire challenge. Shaun seemed a little off from normal and Terri and Eric looked as though they had it under control. My dear friend Diamond looked as if she was handling the pressure very well also. As the time was drawing to an end I couldn't believe my eyes…. Andrea didn't make it to the front station before the clock ended. As the judging continued I thought maybe for a second maybe they may would overlook the late delivery. As Gordon told Andrea that she couldn't be saved I was speechless. Andrea was an amazing cook and it was so hard to see her exit the kitchen doors. I know she will go on to do absolutely amazing things!
Nutella, Nutella, Nutella…..even for breakfast!!!
My children love Nutella! This challenge was so much fun for me because I smiled thinking of my family during the entire cook time. I made huevos rancheros(Todd's favorite) I made a homemade tortilla with homemade mole sauce that I added the Nutella into and then topped with an over easy egg. I made a oat and banana muffin topped with Nutella frosting and toasted hazelnuts(Risi's fav) and lastly I made a Nutella yogurt with Nutella granola parfait (Stevee Kate's fav) I was so pleased with my 3 different Nutella breakfast dishes. I honestly thought I deserved to be in the top 3 in this mystery box but ultimately it's not what I think but what the judges think! I was very proud for Big T!!! He is an amazing cook and person!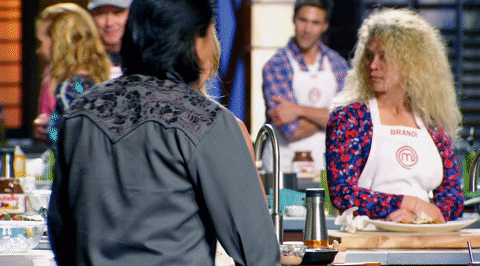 I had never heard of bibimbap much less cooked it!!! I was excited to put my spin on bibimbap and learn something new in the Masterchef kitchen. I decided to use black forbidden rice as my choice of rice. This was my downfall! I didn't realize that the black rice wouldn't crisp in the way a traditional bibimbap rice should. I cooked my vegetables perfectly but didn't cut them small like a traditional bibimbap vegetable should be cut. Chef Tosi said my vegetables were clunky. My exact dish was black rice as the bottom layer topped with grilled pineapple, sugar glazed carrots, sweet potatoes, a fermented cabbage, shrimp and topped with an over easy egg!!!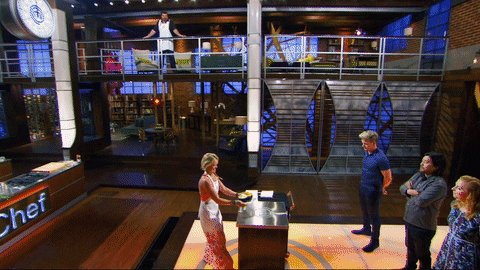 Fortunately I was saved from elimination but that meant saying goodbye to my sweet friend, Diamond. Overall it's hard being in the bottom but I find that in my weakest moments I find strength I didn't know existed.
My encouragement for each of you is to press on when times are tough!!! You will become your better version of you after walking through difficult times!!! Remember tomorrow is a new day. Wake up with a smile, hug someone, and try something new!!!!